Decided to utilise digital marketing? Who's going to make it work?
If generating immediate and stable revenue is priority #1 for your business, then digital marketing can be the right tool for you. Your best bet might even be to launch per-per-click campaigns. Platform like Google, Facebook, or LinkedIn might be a good fit for your company. This article will explore the ins and outs of a significant decision you need to take if you want to generate new revenue via digital campaigns.
Who will take care of strategy and research, setup, management and optimisation?
There are four main options you have. We will analyse each of them below in terms of their advantages and disadvantages and provide recommendations. Before you dive into this article, we have one more piece of good news for you. We are offering free strategy sessions. So, if you feel that you still need advice after reading this, then simply book one of our Growth Directors for a free 30-min chat.
Now, without further ado, here are the four options you have:
Option 1: Do it yourself
Pros
Digital marketing is not rocket science. There are multiple courses available that will teach you how to set up and manage a pay-per-click campaign. If you're technically savvy and have a knack for copy-writing, then chances are you will be able to master the basics in a few weeks. Then learn the rest as you experiment with your own campaigns. This means you will not only save some money but also acquire skills that are nowadays in major demand.
Cons
Learning digital marketing eats into the time you could spend on other things. Developing your product or service, planning out operations or improving your sales skills for example. As a small business owner, you will not be able to delegate any of this to someone else. Digital marketing, on the other hand, is something that can be easily outsourced to external experts. You should closely work with them and provide robust input if you want to see strong returns.
Our recommendation
Unless the skills required for effective digital marketing suit your natural talents or acquiring them could be beneficial to you in the long-term, we suggest you outsource this to an expert. The savings you will generate by doing it all yourself will not be significant enough to justify the time you need to invest to master digital campaign setup and management.
Option 2: Employ a digital marketer
Pros
Having a good digital marketer on board could make many things easier for you. You could experiment with multiple channels simultaneously and test different messages in the copy of your ads and landing pages for as long as you want to. What's more, digital marketers usually have versatile skills. Having an expert in-house could also make it very easy for you to implement changes on your website, produce content for your blog or run your social media profiles.
Cons
The average annual salary of digital marketer in Australia is approx. AUD 65k. That's a very significant commitment for a small business. Also, you might quickly find yourself in an operational squeeze. Your marketing efforts might generate more leads/ sales than you are able to take care of. This could damage your reputation if you don't immediately work out solutions that will help you meet the extra demand.
Our recommendation
Ask yourself these questions:
(1) Are you sure you can afford this without compromising other necessary investments, e.g., product/ service development?
(2) Are you operationally ready to take on the extra business that a full-time digital marketer will generate for you?
If the answer to both questions is "yes", then you're probably a mature business and you should absolutely consider employing a digital marketer full-time. If the answer is negative, you should go for one of the other options mentioned in this article.
Option 3: Hire a freelancer
Pros
Freelancing is popular nowadays. Lots of freelancers on web portals such as Fiverr or Upwork specialise in digital marketing. Working with one means that you don't need to commit to a long-term arrangement and it usually is more cost-effective than working with a digital agency. These things make hiring a freelancer an attractive idea for small businesses that need professional support, but cannot afford or don't have the time for any of the other options.
Cons
Although there are lots of freelancers that advertise their digital marketing skills, it is actually not easy to find one who actually delivers. Freelancers tend to specialise in one field. If you need a full suite of services like an improved website, a digital campaign, social media management, etc., you will likely need to find a separate person for each of these areas. Consistency is key in marketing, so you will invest a lot of time in coordinating all of these people. Finally, freelancers will not be willing (and capable) to dive as deep into your business as a carefully selected employee or a digital agency would.
Our recommendation
A freelancer might be a good fit for your business if:
• you have enough understanding of digital marketing to be able to assess and select a good one
• you need a quick fix for your business rather than a long-term and comprehensive collaboration
If, however, you are after a solution that will generate both immediate and predictable growth over a longer period of time, then you should consider something else.
Option 4: Work with a digital marketing agency
Pros
A good digital agency is the most versatile and effective option for a small business. An agency will have robust experience, internal resources and powerful tools at their disposal that will increase the probability of your success. Moreover, you will have a contact person who will be able to coordinate all the different specialists who work on solving your revenue challenges. That's a very comfortable position to be in.
Cons
But how do we know that a digital agency is "good"? This is a very important question because working with an agency usually requires a considerable investment. Making the wrong choice here is risky for a small business. We want to help you assess the fit of a digital agency for your business, even if your knowledge of digital marketing is limited. That's why we developed a handy guide for you. Here's a sneak-peak into the advice we will provide: if an agency attempts to lock you into a long-term contract, then this is a major red flag and a sign they might be trying to prioritise their own revenue over yours. This means they either do not understand the reality of small businesses or are unsure whether they will be able to deliver. Avoid!
Our recommendation
Grab a cuppa, download our guide "How to select the right digital agency"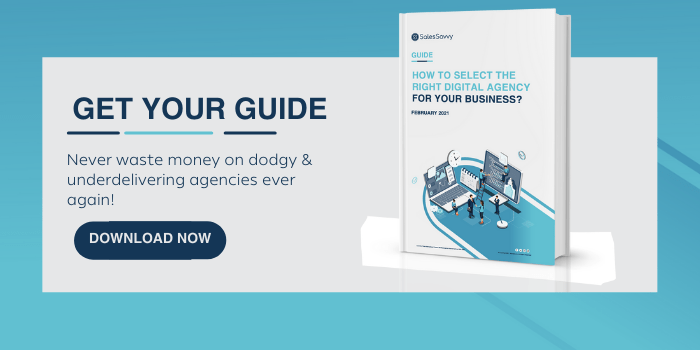 If you feel you need more advice on this and want to act immediately, then book us for a free consultation. It entails no obligations!